What started as an innocent suggestion by Donna for me to help others, has become much more of a journey about me.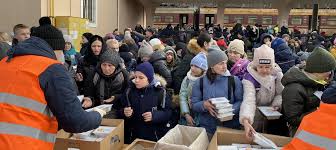 On April 17, while reading about José Andrés and the heroic efforts of his World Central Kitchen to feed the many fleeing Ukrainian refugees, Donna casually suggested I should get involved. Whether it was the impact of two years of Covid restrictions, that feeling of helplessness watching the Ukrainian crisis unfold from afar, or some unearthed almsgiving impulse (it was Easter Sunday, after all), in less than 24 hours, I reviewed the volunteer requirements and signed the waivers, secured hard-to-find accommodations and booked my flights to Poland.

So from May 22 to May 29, I will be working with the WCK team in Przemyśl, Poland to prepare and distribute food and needed supplies to the refugees leaving Ukraine, as well as the many still in country. At this point, I'm not sure exactly what they'll have me doing, but I've committed to work 12-hour days for a one-week stint at their operations located near the Ukrainian border. Here's a great article about the town of Przemyśl.

I don't know what impact this may or may not have on me personally. If you're reading this, you probably know that I'm not one to wear my emotions on my sleeve. At a minimum, I expect it will open my eyes fully to the tragedy unfolding before us. Whether that is something I simply carry with me in the future, or causes some change in my personal trajectory, I simply don't know. But, though I am not one to typically share my life with others digitally, at the encouragement of Donna, Mike Lake, Andrew Browne and others, I am going to make an effort to share my experience and my thoughts along the way during this journey. Hope you'll join me.

Cheers.
Sully