So much to see, so little time
**Note, after returning to Calgary and getting back in the groove of things, I was delinquent in getting this post done and published. Mea culpa!
The morning following my week at World Central Kitchen, I traveled back to Kraków via train. On my trip to and from Przemyśl I was again impressed by the beautiful, farming countryside and visible affluence all along the train route. After having driven through interior BC two weeks earlier, I have decided that while Canada may have more wealth, relatively speaking, we probably have more poverty too.

With only a day and a half to myself before returning to Canada, I decided I'd spend the afternoon/ evening exploring the Old Town in Kraków, and rent a car the following day to venture outside the city. From Wikipedia – Kraków was the official capital of Poland until 1596 and has traditionally been one of the leading centres of Polish academic, economic, cultural and artistic life. It's Old Town (Stare Miasto) was named a UNESCO World Heritage Site in the first group declared in 1978. Bustling with life, every street was busy, even though this was a Monday. The architecture was truly breathtaking. Clearly the city has done an amazing job of preserving and restoring the historic buildings throughout the area. However after a while, I decided that regardless of how impressive the next church was, I was done photographing them. The market square was ringed with inviting al fresco dining tables and umbrellas, which I succumbed to.
Here is a great example of the restoration work constantly underway…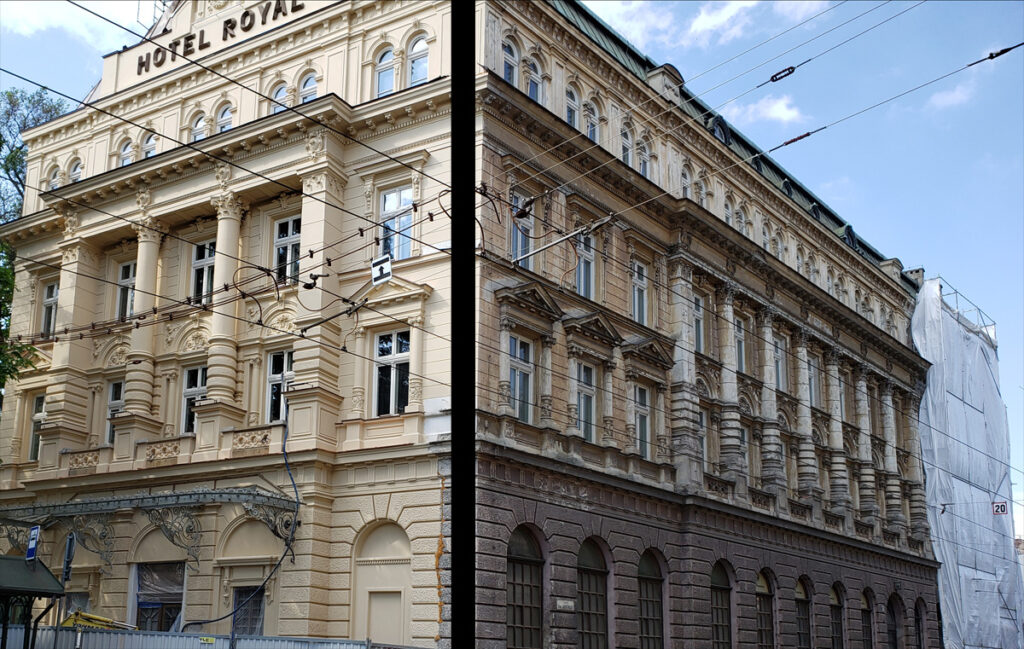 While I spent four or five hours walking the Old Town, there were many areas I did not get to see, and would treasure a return trip in the future. I will create a separate gallery page to share more of the photos I took of Kraków and the rest of my trip.
Tuesday morning I enjoyed my first hotel breakfast and a leisurely walk to the train station to catch the 8:30 to the airport. Canada, particularly Southern Ontario, could benefit from really good train service. I hold no hope for the rest of the country, though the Calgary Airport-downtown-Cochrane-Banff rail line project is intriguing.

After joking with the rental car guy at the airport over the fact that most North Americans can't drive cars with standard transmission, he sent me away with Kia Rio (automatic). The night before, I had tried to book a tour at Auschwitz, but there were no English tours available for this morning, but I headed off towards Oświęcim anyway. I understood that there would be limited access without being part of a tour, but I was determined to visit regardless. I began at the camp known as Auschwitz II-Birkenau in Brzezinka. I was amazed at the number of tour buses already at the parking lot when I arrived. The area was chock full of visitors, many school-aged. I think this is likely a common school trip for many Jewish students worldwide, as well as for all students in neighbouring European countries.

I walked about a third of the 13 km perimeter of Auschwitz-Birkenau, where 1.1 million men, women and children, 90% Jewish, were killed. About 100 of the 400 structures remain standing, with the ruins of the other camp buildings, gas chambers and crematoria still visible. It was a quiet, somber walk with little distraction, allowing my mind to try and process what I was seeing and what it all meant. All around this area outside of the fences there are numerous other references and reminders of the presence of the German camps and the atrocities committed.
I then drove to the main camp, Auschwitz I, a few km from Birkenau. The first and main camp of the complex, it housed administration and the primary barracks for German soldiers. It also served as a penal colony housing many Polish, Soviet and German political prisoners who served as forced labour building out the 40 camps of Auschwitz. Over time, with the arrival of more and more Jews, the facility also included a gas chamber and crematorium, where many deemed "unfit to work" were executed. With more time, I would have appreciated the opportunity to be part of a tour and see and learn more.
In preparation for my exploration around Auschwitz, I came across a story about a Canadian layabout who move to Israel, lived in a Kibbutz, found God, became a sculptor and began a seven-year odyssey creating a complex sculpture depicting a dialogue of suffering between the crucifixion and the holocaust. Rick Wienecke, the artist, had recently completed a 2nd version of the dramatic work near Birkenau. With Google Maps as my guide, I found the location just a few blocks away and went to check it out. Well, the building was closed, but undeterred, I walked around back and spotted a couple doing some work in the yard. My timing was exquisite, as Rick and his wife Dafna were up visiting from Israel. Upon learning I was Canadian, Rick insisted that Dafna take me through the exhibit and share the story of the Fountain of Tears with me. I spent well over an hour learning about Rick's journey, his anguishing personal struggles and conflicting motivations whether to undertake the project or not, and the eventual completion of an extraordinary piece of work in Arad, Israel. Rick then joined us, sharing the incredible account of how, in response to encouragement from others, he then recreated the work in Poland to allow more people to experience his story.
Most who know me, know I'm anything but religious. And even after the immensely personal tour of this odyssey by Rick and Dafna, I can't really say I understand the message. But, I am truly in awe of the inspiration and determination of Rick Wieneke to unravel, depict and share an impassioned mission he believes he was instructed to undertake. I am deeply thankful for the generosity Rick and Dafna shared in spending time with me.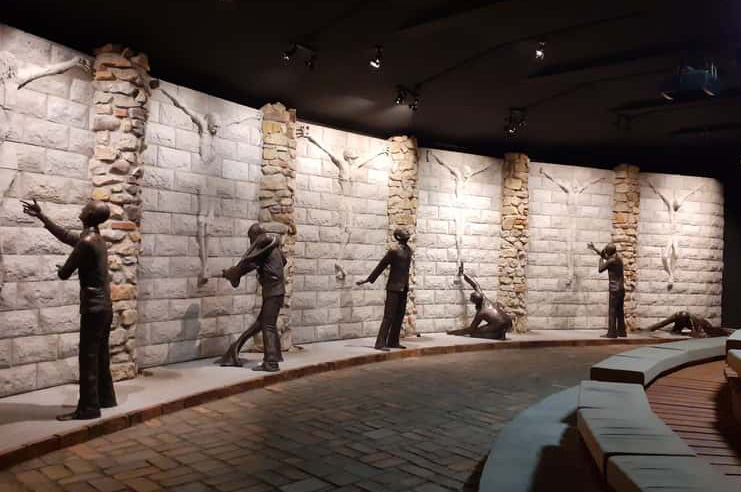 With only a few hours before my flight to Warsaw, I headed back through country roads towards the airport. In a solemn mood, I enjoyed the quiet winding drive through pretty small towns and villages. Suddenly, without the typical advanced billboard notification you'd find in North America, I found myself alongside a massive wooden roller coaster. Turns out I had discovered EnergyLandia, home of more than 20 roller coasters including Zadra, the world's largest wooden coaster (by their account). Well, I stopped, took a few pics and headed on to the airport, glad to have something to smile about.